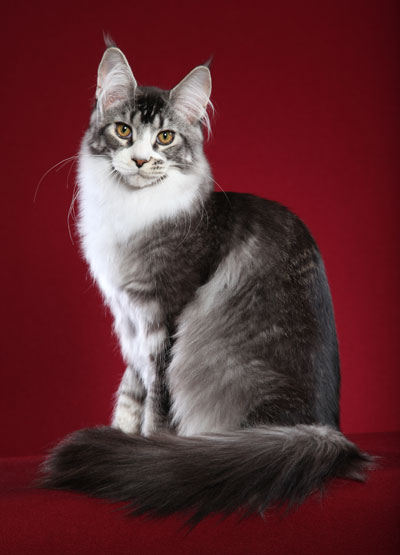 Born: August 20,2009
Sire: IW CH Mainette Philosopher's Stone
Dam: Noracoon Tailor Teagarden of MTNEST


Lieutenant Pyrene is named after the chief cat in the mess hall at West Point. He is a black silver ticked tabby with white. He was shown as a kitten in the show year 2009-2010 and ended up 5th best kitten in the MA Region and 3rd best Maine Coon kitten. He was shown in the championship class during the show year 2010-2011 and ended up as 3rd Best Cat and 2nd Best Maine Coon Cat in the Mid-Atlantic Region and 17th Best Cat and 4th Best Maine Coon Internationally.  He is now enjoying his life as an alter, playing uncle to many kittens who just adore him. "Louie" is the true "gentle giant". He loves to be held, hugged and cuddled and enjoys purring you to sleep at night.