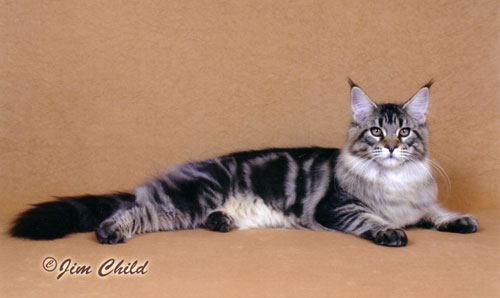 Born: August 23, 2003
Sire: MTNest Jumpin' Jack Flash
Dam: Mainette Into the Mystic

Pedigree
Squeaky was initially the runt of the litter. She grew up to be a stunning female who was shown in 2003-2004. She became the 16th Best Kitten and 5th Best Maine Coon Kitten Internationally, and and 3rd Best Kitten in the Mid-Atlantic Region. She then went on to become a Supreme Grand Champion She has gone on to produce several amazing litters of kittens, many of whom became International Winners, Regional Winners and Grand Champions. She has been awarded the distinction of "Outstanding Dam" (OD) in TICA. She was retired in 2007 and now lives happily as an alter.