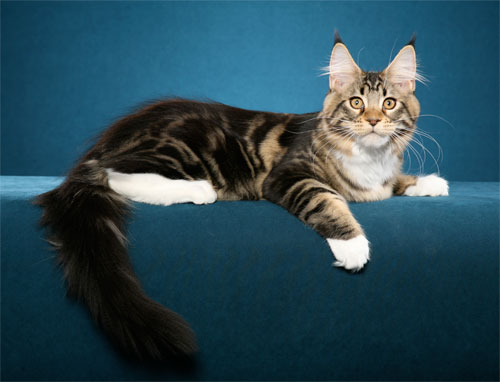 Born: May 19, 2008
Sire: IW CH Mainette Philosopher's Stone
Dam: QGC MTNest Eliza
Princess Diana is a lovely black classic tabby with white who has a wonderful personality and beautiful structure. She was shown in 2008-2009 and finished the year as the 10th Best Kitten and 3rd Best Maine Coon Kitten Internationally and Best Kitten in the Mid-Atlantic Region. She then went on to become the 11th Best Championship Cat and 3rd Best Maine Coon Cat in the Mid-Atlantic Region that same year. She is a wonderful addition to our breeding program. Her first litter was born on June 25, 2009.
Her second litter (with sire IW CH Mainette Swagger) was born in 2010 and produced MTNest Prince William who ended up BEST International Kitten for show year 2010-2011.  
Read about him on "Our Boys" page. We have repeated the breeding and hope to have another litter of spectacular kittens.